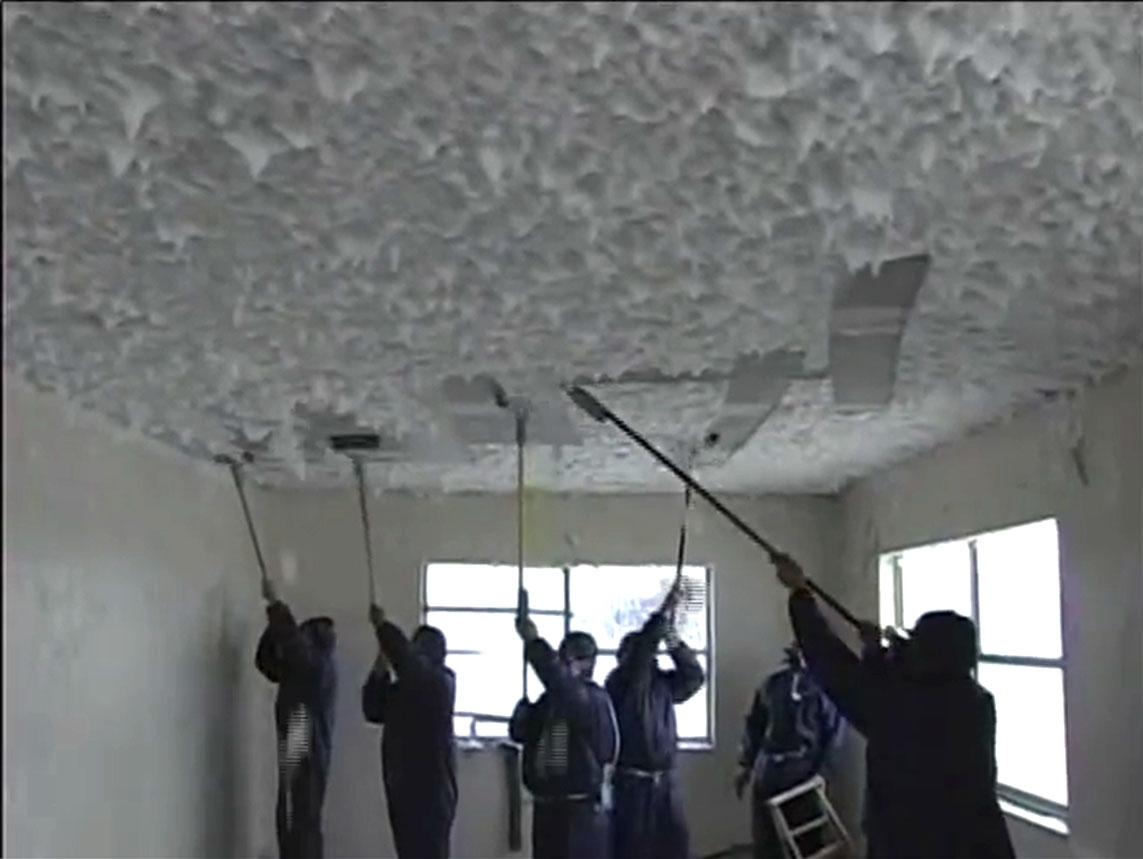 Directors: Sasha Litvintseva and Graeme Arnfield
Country: Russia/UK
Duration: 19'27''
Year: 2016


About the Film
Asbestos is a film about the pharmaconic nature of asbestos. Mined, extracted, and woven, asbestos could be considered a magic mineral. Many towns became cities under its patronage, Persian kings entertained guests with its fireproof nature, and centuries of industry raked in the profits of its global application. The film, however, explores the aftermath of this toxic dream, a dream that with the invention of electron microscopes revealed our material history as a disaster-in-waiting. Although the true nature of asbestos has been revealed, the film shows that its industry has far from left us, with extraction from the soil transforming to extraction from our walls. Many inhabitants are now faced with two options: to remove this material from their homes and start anew, or to build over its residue. Removal is a dangerous and costly operation. As the film demonstrates, very often people choose to live amongst it instead, choking out their walls with plastic cover—the failed promises of modernism literally entombed all around. Shot in the mining town of Asbestos, Quebec, home to the world's largest asbestos mine that only stopped extraction in 2012, the film is a meditation on the entanglement of the fragility of bodies, the nonlinearity of progress of extraction, and the persistence of matter.

About the directors
Sasha Litvintseva's work as an artist, filmmaker, and researcher has been presented at numerous film festivals and exhibited worldwide including in solo presentations at Institute of Contemporary Art, London; Berlinische Galerie, Modern Art Museum Berlin; Museum of Contemporary Art, Chicago; Union Docs, New York; screenings at the Berlinale, Rotterdam, Courtisane, Cinema Du Reel, RIDM, Ann Arbor, Alchemy film festivals; and group presentations at MUMOK Vienna, CAC Vilnius, Moscow Museum of Modern Art, Sonic Acts, Berlin Atonal and the Videobrasil, Moscow Young Art, Wroclaw Media Art and Venice Architecture biennales, among many others. Litvintseva is a lecturer in Film Theory and Practice at Queen Mary University of London and holds a PhD in Media, Communications, and Cultural Studies from Goldsmiths. Her academic writing has appeared in special issues of Environmental Humanities and Transformations journals, and she is currently working on a book monograph.

Graeme Arnfield is an artist, filmmaker, and curator living in London. He graduated with a Masters in Experimental Cinema at Kingston University. Producing sensory essay films from found, often viscerally embodied networked imagery, his films use methods of investigative storytelling to explore issues of circulation, spectatorship, and history. Research topics have included: the politics of digital networks, the material distribution of ecological matter, and the adaptive capacities of global and local histories. His work has been screened in different film festivals around the world. His short film Asbestos (with Sasha Litvintseva, 2016) was part of the 2017 Forum Expanded.